Another great reading week.
---
The Ice Monster (2018) by David Walliams
I picked up a whole stack of Walliams' books in a jumble sale last year. I have long been intrigued by what his children's books would be like, because I had so far only seen the tv adaptation of Gangsta Granny, which I really liked. The Ice Monster was a fun read, but I was also surprised how much factual information Walliams tried to impart – from Victorian London to the Queen Victoria to science and technology that Victorians were obsessed with. Fun facts wrapped up in a lot of fart jokes. What's not to like in a kids' book?
What I loved best of all was that the sotry heavily features the Natural History Museum in South Kensington/London, and I hope that it inspired some youngsters to a visit.
The story itself – featuring an orphan with an interest in paleontology who unwittingly becomes an accomplice to a quasi Dr. Frankenstein – was moving and funny, but at time felt a bit long in the tooth. If my patience was tested, I can imagine that some of its intended readers would have felt the same.
Overall, I look forward to reading the other books in my Walliams' stack. He seems to write with creativity (which I expected), but also with kindness and an awareness if making stories inclusive without stressing about it.
---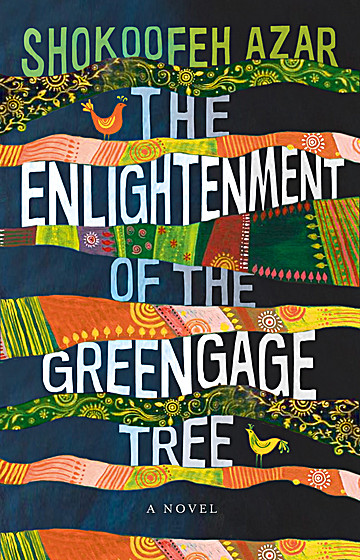 The Enlightenment of the Greengage Tree (2017) by Shokoofeh Azar
I picked this up because of the gorgeous cover and because the premise of a story of magical realism but set in revolutionary and post-revolutionary Iran seemed too good to pass on.
Having finished, the book, I really am not sure what to make of it. I certainly did not enjoy it. However, how can anyone enjoy a book that reads like a long list of atrocities committed against people who should be be neighbours and friends. How can one enjoy a book that cannot give credit to the translator because listing their name would put them in mortal danger? How can one enjoy a book that, despite it's colourful cover, is nothing but bleak and full of hopelessness and despair?
Still, I had some issues with the writing also: I liked how the author intertwined folklore and magical elements with a straight narrative in this story. I liked how we get to follow our narrator and Khomeini (at least for a while). However, this change of POV also made the book feel disjointed. At the same time, I am not sure I could have actually read much of the book if it had not been for the magical elements because, as I said, it just reads like a never-ending list of torture and killings. And while I understand that this is kind of the point of the book, I would rather turn to non-fiction for this. I need something else from fiction. Something that leaves room for imagination. Something that makes me want to find out more. Not something that makes me want to put the book down and move on wishing I had not read it.
So, while I understand that this is in a way an important book because it strives to tell of the living and dying conditions in Iran after 1988, including the mass killings and religious persecutions leading to tortures and … more killings, and while I understand that the book itself is also a huge middle finger raised towards the current Iranian regime, I felt left out as a reader. There was little in the book that I could connect with as someone who has no links to the history and people of Iran. And once the major twist in the story was revealed (not much of a twist as I expected the revelation somehow – without it, the POV would not have made sense), there was just little to keep me reading. And while I finished the book, I feel like I would and perhaps should have abandoned it much earlier because there was not much more in the way of story development that was added after the "big reveal".
---
Other reviews posted this week:
None
Currently reading:
The Oxford Shakespeare: The Complete Works – William Shakespeare (see The Will's World Project)
The Best Detective Stories – Cyril Hare
Lady Joker, Vol. 1 – Kaoru Takamura
Rebel Writers: Seven Women Who Changed Their World – Celia Brayfield