While I lost my reading mojo a couple of months ago, I still do have some books on my shelf that I just want to pick up because either they are just too intriguing or because they signify comfort to me. So, it may take me ages to read anything at the moment, but at least I am reading again.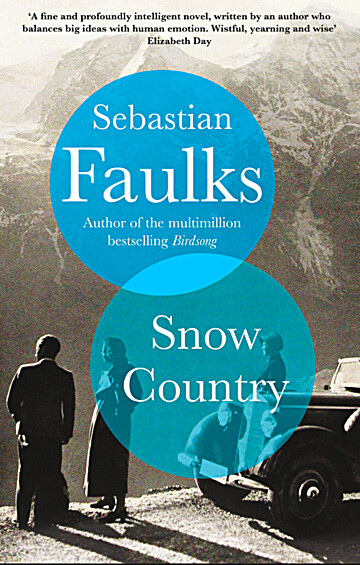 Snow Country (2021) by Sebastian Faulks intrigued me because of its setting and premise … and I may also have been hooked by the cover. The story is in two parts and is set just before the First World War and then again in the inter-war years and tells of a number of young people in Austria who have in common that they meet at a sanatorioum in the Alps. Apart from each character's individual story, there is a whole lot of detail of life at the time and even more discussion of life at large.
And this is one of the main reasons that the book was completely lost on me: there was a lot of generalised navel-gazing that was not even done well stylistically. One of the first things to put me off in the book was the way that the author actually tells us what the characters think and feel. There was no challenge to the reader to empathise or even figure out what the characters were all about. It was even more disappointing because I know that Faulks can write and that he has heard of the old advice "show, don't tell".
The next thing that put me off was that the story seemed really fragmented and that the characters seemed rather forced to interact with each other the way they do. I just wanted to forget all about the insta-love element of one twist as soon as I read it.
And of course, it also did not help that the story just felt like a badly done regurgitation of Thomas Mann's The Magic Mountain. I hated reading The Magic Mountain, but even I have to concede that it was written. I would never discourage anyone from reading it for themselves. I'm not sure I can do the same with Snow Country.
Actually, no …. Before picking up Snow Country, please consider reading The Magic Mountain instead. There I said it.
At least, when Mann writes about psychology that is heavily based on Freud it is done as a contemporary and does not come across as an authorial choice that borders on cliche.
---
Hercule Poirot's Christmas (1937) by Agatha Christie is a seasonal comfort re-read for me. I tend to re-read this book every year at Christmas. What is better than Poirot being urged to investigate a country house loocked room mystery because his central heating has packed it in?
Simeon Lee, in fact most of the Lee family, is one of my favourite bunch of dysfunctional characters. Dame Agatha must have had a blast writing these people.
Anyway, my reread was followed by watching the David Suchet adaptation yet again. I would not want to miss this. It's been a Christmas tradition for many years.
---
Hogfather (1996) by Terry Pratchett is another favourite seasonal re-read.
I think it is the dark days and lack of daylight that make this book so precious to me. The threat of the sun not rising in the morning that is discussed in the story just seems to hit home. Even if the meaning behind it does not become clear until the end of the story. The book is all about humanity, and that too, just taps into the seasonal theme.
I love this book. What is even better this year is that I have persuaded a friend to give it a go. I can't wait to hear whether she likes it.
---
Other reviews posted this week:
none

Currently reading:
The Oxford Shakespeare: The Complete Works – William Shakespeare (see The Will's World Project)