To the Manor Born, a BBC Radio remake with Keith Barron filling in for Peter Bowles – and it was just delightful. I still love Penelope Keith's Audrey. She's hilarious. It was such a "comfort read".
I really want to track down the old tv series for comparison, and for light entertainment.
Of course, I'm particularly intrigued by the difference – if there were any – between the portrayls of Richard by Peter Bowles and Keith Barron. It's been such a long time that I have seen the series that I just cannot remember.
The Key by Patricia Wentworth was this month's pick for a side-read to an ongoing project of the Appointment with Agatha group on Goodreads. In addition to the monthly Agatha Christie novel, the group reads other Golden Age Mysteries on the side.
The Key was not my first Wentworth. By now I am fairly familiar with the author and with her main sleuth – Miss Silver. This particular story was a lovely mystery set during the Second World War that seemed to focus on solving the puzzle of who was where when.
As much as I enjoyed the book, only a few hours after finishing, I had to re-read the ending because I couldn't remember the motive.
Something just was not working for me with that ending. I mean, it was action-packed and interesting, but – like Christie's The Big Four (the group's main read this month) – it was a bit too movie dramatic for me.
(Series: Miss Silver, #8)
There are a few other books that I managed to finish this week, and I even managed to pen a few short reviews for them. I have listed them separately below with one notable omission. I really hope this is a sign that I am finally coming out of this posting slump. Fingers crossed.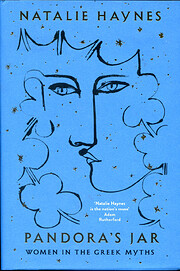 The omission I mentioned is Natalie Haynes new book Pandora's Jar for which I hope to write a few words once I receive my tree copy of the book. I listened to the audiobook on my library's app and, on finishing, I really wanted my own copy to quote from and use as reference.
I loved Pandora's Jar. In it, Haynes analyses ten characters from the classic Greek myths. She discusses the characters, the source material, and later reworkings of them from a feminist angle. Haynes argues – quite rightly – that word choices in translations and omissions of details that would have provided more context are important and can change how the characters are portrayed.
Haynes tells us nothing new in this book per se but it is fabulous to have a compendium of the different analyses and characterisations of the listed characters. And besides, any book that makes me order copies of Euripides and Ovid has to be a good book. My Mt. TBR may disagree.
---
Other reviews posted this week:
No Way Down: Life and Death on K2 by Graham Bowley
Reaper Man by Terry Pratchett
The Big Four by Agatha Christie
The Lamplighters by Emma Stonex
Enter a Murderer by Ngaio Marsh


Currently reading:
The Second Rumpole Omnibus – John Mortimer
The Interest – Michael Taylor
Women of Westminster – Rachel Reeves
Red Ellen: The Life of Ellen Wilkinson – Laura Beers
The Oxford Shakespeare: The Complete Works – William Shakespeare (see The Will's World Project)