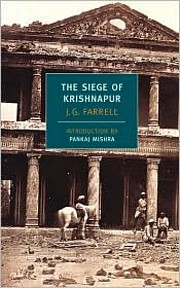 Review:
2* (out of 5*)
Later, while he was drinking tea at the table in his bedroom with three young subalterns from Captainganj a succession of musket balls came through the winder, attracted by the oil-lamp . . . one, two, three and then a fourth, one after another. The officers dived smartly under the table, leaving the Collector to drink his tea alone. After a while they
re-emerged smiling sheepishly, deeply impressed by the Collector's sang-froid. Realizing that he had forgotten to sweeten his tea, the Collector dipped a teaspoon into the sugar-bowl. But then he found that he was unable to keep the sugar on the spoon: as quickly as he scooped it up, it danced off again. It was clear that he would never get it from the sugar-bowl to the cup without scattering it over the table, so in the end he was obliged to push the sugar away and drink his tea unsweetened.
The Siege of Krishnapur sounded fascinating – a depiction of the fall of the British Empire illustrated  in a small town in Northern India.
I don't know whether this book fell victim to my reading slump, or whether it just missed the mark with me, but I could not get interested in any of the characters or the story, and on finishing, I don't even know whether I would have finished it at all if it had not won the Booker in 1973.
It seems to me that The Siege of Krishnapur is one of those books that may have made more of an impression at the time it was written, but that has lost some of its appeal over time. Maybe the expectation of the book is to defy any nostalgia towards imperialism in its reader. But what if there is nothing to left to defy?
I don't know. This book maybe just wasn't for me.