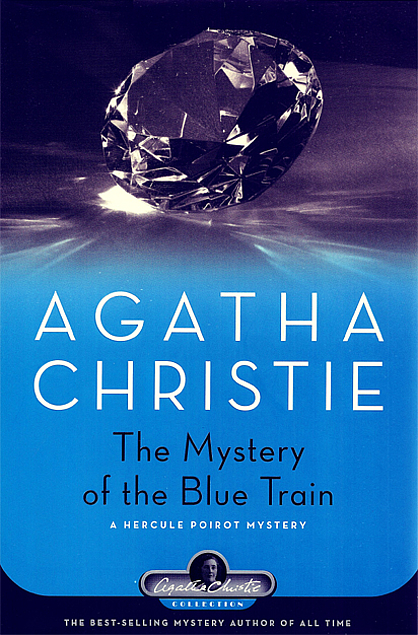 The Mystery of the Blue Train (1928) by Agatha Christie was this month's book of the Appointment with Agatha reading group on Goodreads. We read one book per month, in publication order.
Of course, this was a re-read for me. I have enjoyed Christie's work for much of my reading life and managed to complete reading all of her novels a few years ago.
This particular book is not one of my favourites, but I like it. There are enough quirks in this one to cause me to enjoy it, even if Dame Agatha was not fond of the book herself. I previously wrote about the background to Christie's self-assessment in my original review/comment on the book.
What made me laugh on this particular re-read was that I noticed something I had not noticed on previous reads: there is a supernatural element to it.
I'm glad Christie didn't include the same in her future Poirot/Marple stories. While I like her short stories that have a similar element – there are quite a few of them – I am glad that these are kept separate from the crime writing.
me is that it was a novella. It felt a bit short. Not rushed, but just short. I liked it but it didn't blow me away. Still, I will probably read more in this series.
---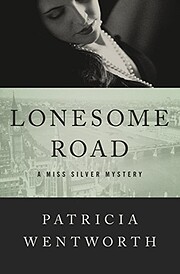 Lonesome Road (1939) by Patricia Wentworth was my next outing into the Miss Silver series. This is Miss Silver's 3rd adventure and, to my astonishment, the first book I have read where Miss Silver actually is involved right from the start of the book.
It's an unusual book that starts off with a young woman, Rachel, being the heiress to her father's fortune. However, much of the fortune is tied up in trusts. Her family, especially her older sister have been passed by, and now events start happening that cause Rachel to fear for her life.
I don't know what exactly it was about this book but I was gripped from the start. This read like a really good black and white thriller. Perhaps something starring James Mason. The funny thing is though that the book is full of descriptions of the colours of clothes and artifacts.
Anyway, the second half of book changed gear entirely for the worse. The love interest – inevitable in any Wentworth novel – appears on the scene and I was left – yet again – scratching my head what our main character could possible be attracted to in the man. It was a nice book for a cozy evening accompanied by tea and a blanket.
---
Knock, Murder, Knock! (1938) by Harriet Rutland was a follow up to a recent recommendation by a fellow fan of crime and mystery books on Goodreads. I loved Blue Murder by the same author and wanted to know what her other books were like. There are only three of them available and I am so sad that Rutland didn't have a more prolific writing career because I love her style of writing.
This story was set in a hydropathic hotel among a cast of mostly elderly or ailing "inmates", one of whom endeared himself to me right from the start. A retired military man pestering an lady for knitting advice made me laugh. It also went to show that, yes, knitting is for everyone. It's hard to believe that knitting was once a popular pastime for men also.
Anyway, there was much that I liked about this book. The mystery is very character-based and each of the people we meet are written as complex individuals. All of the characterisation, however, slowed down the pace of the story significantly. I enjoyed all of this book expect the pace. It felt like the investigation was taking forever.
Still, I very much look forward the author's only other book, Bleeding Hooks, but may keep it in store for an evening when I need a good writer rather than experiment with unknown quantities.
---
Lastly, on the mystery side, I read The Man Who Didn't Fly (1955) by Margot Bennett. The book starts with a plane crash in which all of the passengers and the pilot die. The investigation then discovers that one passenger was missing, but the identity of the missing person is unknown. Was the crash planned? Who chartered the flight? Why did the last passenger not board the plane?
The book had a really interesting premise and I loved the feel of the start of the book. It very much reminded me of Graham Greene's The Third Man, but without the post-war Vienna setting or the zither music.
But then the story veered into a retelling of what happened two days before the main event and we started to hear what each of the potential victims and potential culprits – to explain the "potential" would be a spoiler – were doing in the lead up to the start of the book. This was described in a lot of detail and it was just so, so boring. It wore me down. I was not in the frame of mind for a slow-paced pastoral.
So, at 30% I skipped and skim-read to the end of the book where the author again split the narrative into four parts, each focusing on a character, only to what seems to me to be dragging out the inevitable solution.
And the solution was rather underwhelming.
As I said, the book may have worked better for me if I had been in a different mood when reading it, but one thing I cannot stand when reading is boredom. And this book bored me stiff.
---
I also finished The Lathe of Heaven (1971) by Ursula K. LeGuin and a travelogue written in 1842 by Ida Pfeiffer, a Viennese woman who travelled to Jerusalem on her own.
Both books were fascinating and I hope to follow up with reviews for both of them.
---
Other reviews posted this week:
The Interest – Michael Taylor

Currently reading:
What I Believe – Bertrand Russell
The Abbey Court Murder – Annie Haynes
Red Ellen: The Life of Ellen Wilkinson – Laura Beers
Wenn Du Geredet Hättest, Desdemona – Christine Brückner
Childhood, Youth, Dependency: The Copenhagen Trilogy – Tove Ditlevsen
The Oxford Shakespeare: The Complete Works – William Shakespeare (see The Will's World Project)