In Halloween Bingo news, I have two causes for celebration:
1. I was able to call my first bingo this week!
2. I finished my last book for the game and blacked out my card yesterday, and I could not have picked a better book to do it, even if it was a re-read. More about this below.
My updated bingo card is here.
As for the books I managed to read this week, most of them have been re-reads. Half of them have been favourites of mine for a while.
Most of them have been fantastic.
Rebecca by Daphne du Maurier (1938) is still one of the books that I regard as perfect. With every re-read, I discover something new, or manage to catch a different nuance of the writing.
In this particular re-read, I'm just really focusing on Frank Crawley for some reason. Perhaps this is as a distraction from the character of our nameless main character, who is still really annoying, silly, and so, so, … well, intriguing, because the narrative voice at the start of the book is quite changed from the childish character we get to meet at Monte.
I love this book because it defies genres and times. It is was written in 1938, and feels like it was set a decade earlier, but it also has this incredible Gothic feel to it. And, yet, one can easily imagine the central conflicts to occur in our time, too. It's a story about glamour and about decay.
It's both a coming-of-age story and a story of decline. It's a mystery and a ghost story but it's also a psychological thriller about some very, very messed up people.
I love this book.
I was also prompted by one of the Goodreads group challenges to read something by Oscar Wilde and as The Picture of Dorian Gray (1890) fit in with one of the Halloween Bingo tasks, I opted to revisit the book via the audiobook narrated by the wonderful Edward Petherbridge.
Oscar Wilde has long been a favourite author of mine, but I have never been able to love Dorian Gray.
The concept underlying Dorian Gray is phenomenal. And yes, I am also a big fan of Faust, which some of the main elements in Dorian Gray are based on. So, Dorian Gray should have been a better fit with me, but the truth is that I simply don't care for Wilde's writing in Dorian Gray.
Wilde's witticisms work best in pieces that heavily rely on dialogue and short exchanges. His plays are perfect as a mode of communicating this particular art-form of his. However, in the novel format, I found the constant interjections of one-liners and puns rather annoying.
Tragedy at Law (1942) is supposed to be Cyril Hare's best-known work. It is also the first book in his Francis Pettigrew series. However, this is the fourth book by Hare that I have read. I have thoroughly enjoyed this book.
I am hoping to write a separate review of the book shortly, so let me just say that this is not your usual Golden Age mystery, and that I would recommend this book to anyone who enjoys a classic whodunnit and has an interest in the English court system. Cyril Hare was a lawyer (judge, actually) and it shows in his writing. It is an element that I find hugely entertaining in his novels. (4.5* out of 5*)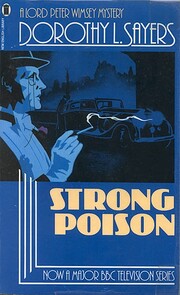 Lastly, I engaged in a re-read of Strong Poison (1930) by Dorothy L. Sayers as my last book for Halloween Bingo. There is little that I can or want to say about this book that has not already been said.
It is a fantastic Golden Age mystery, that even plays fair with the readers as a vital clue is already planted within the first 10 pages of the book.
But of course, we also get the story of Peter and Harriet, and we get to know more about characters that we already met in previous books. I always seem to forget that this is the book where the Hon. Freddie discloses some of his own thoughts to the reader.
And this also the book that revisits Peter's relationship with his sister, Lady Mary, and where we get the immortal lines of:
'My God!' said the Duke, 'you're not going to marry a policewoman?'
'Not quite,' said Wimsey.
I love this book. It and its sequels are some very firm favourites of mine.
Oh, and because the Halloween Bingo task I read this book for demanded that I read at least part of the book by candlelight, I saved the last part of the book to add some "mood lighting" to fit a very atmospheric part of the plot – I switched to the kindle version for this. I really have no idea how people managed to read before electricity was a thing:
Other reviews posted this week:
Eddie Thomas Petersen: After the Death of Ellen Keldberg