Writing this update at the end of the first week of September can only mean one thing: This update will be full of comments on books I chose for Halloween Bingo!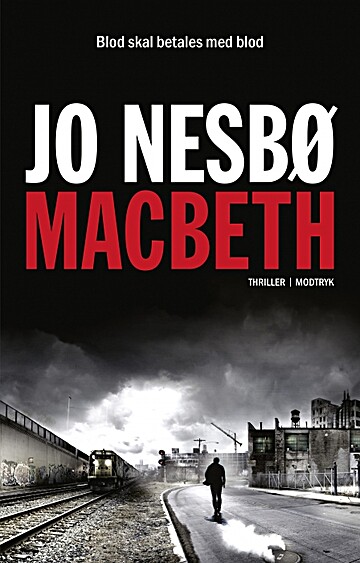 And so it is! I started this year's Halloween Bingo game with a book that has been lingering on my shelves for quite a while: Jo Nesbo's Macbeth, which is a retelling of the play as part of the Hogarth Shakespeare series. I'm reading the Hogarth series as part of my Will's World project, and so far the re-tellings have been on varying quality. Macbeth was at the bottom end of the range. Instead of spending more time reminiscing about that particular reading experience here, I wrote an actual review of it.
NEXT!
My second pick for the Halloween Bingo was John Dickson Carr's The Hollow Man, a classic locked room mystery that is widely held as one of the finest of its genre.
What struck me first about the story is that it seemed to have been written in a style that aimed at emulating that of the Sherlock Holmes stories, tho ironically featuring a detective based on G.K. Chesterton. Or maybe Carr was trying to include as many tips of the hat to his literary heroes as he could and therefore expanding on a mystery treasure hunt of the literary kind. It would certainly explain why he felt the need to include the chapter about locked room mysteries where the author breaks the fourth wall to have his detective deliver a lecture on it.
While the setup and self-congratulatory references may have worked for Carr's fellow mystery writers (who seem to praise this novel much), it did not work for me.
I liked the underlying mystery and atmosphere, but found the main character to be a tiresome bore who seemed to pull unknowable facts out the ether like it was nobody's business, and I found the the delivery of the story to be overly convoluted. I was relieved by the end of the book that it had ended and that it was not my first encounter with Carr. Had it been, I would think twice about picking up another of his books.
After this experience I was well and truly set for a change of tone and pace: A.S. Byatt's Ragnarok fitted another prompt of my bingo tasks.
I really liked it. I don't even know why. Ragnarok was really short but it was very much the opposite to Nesbo's Macbeth, and thus perhaps exactly what I needed.
I only realised it when I started the book, but Byatt wrote the book as part of the Canongate Myths series, i.e. a retelling of a myth – so very much another similarity to Macbeth which was the retelling of a Shakespeare play as part of the Hogarth series.
Where Macbeth discouraged me from looking deeper into the retelling (because it made little sense at the heart of it), Ragnarok was a slow-burning revelation of subtleties that seemed to end in the discovery that the story was not just about the end of the world that the main character, the "thin child", lived through when she sought to escape into Norse mythology. It was also the description of another layer of destruction that lurked or rather lurks beyond the short term vision of the stories setting.
Much like Ragnarok, once things are set in motion, it is not known whether they can be stopped.
I rather liked this. I do realise, however, that Byatt's writing – ornate and flowery – is not something I can read a lot of.
John Crow's Devil was my last main / serious read for this week. I have been keen for some time to try Marlon James' book but in all honesty the subject and length of A History of Seven Killings has always put me off. However, I picked up John Crow's Devil this summer and it may not have been a bad choice as other readers seem to say that James' first novel suffers by comparison to his Booker Prize winner. It sounded like a great opportunity to use the book for the bingo prompts.
There is witchcraft and magical realism. There are crimes in this book. There are unexplained deaths. And people being horrible. There is a preacher who for most of the book I was not convinced was human. And a whole lot of terror, that is very insidious.
"We're afraid.
"We're upset.
"We're distraught. Even more of us are confused and just about everybody is ashamed. Be truthful before the Lord, you, we are all ashamed. I know what you're thinking. Thou shalt not kill, I know. That night is playing over and over in your head like that Devil music they keep sending over from foreign. But, beloved, I'm only going to say this once.
"WAKE UP! What do you think this is? Pin the tail on the donkey, church? This is war! "High time some of you in here get off your blessed assurance. God didn't come here to heal the sick, He came with a sword! We're tearing down the kingdom of Satan! We launching D-Day on the shores of Hell. We're going into the enemy's and taking back what he stole. Oh Abba babba a maka desh—I wish I had a God-fearing church. The Devil is not your boyfriend. Satan is not some naked red boy with a tail and a pitchfork! The Bible says he comes to steal, kill, and destroy! Is either him or us! So what's it going to be, Gibbeah, him or us? The Devil or the saved? But the Lord says, thou shalt not kill.
"Well, church, what if I tell you that was no man that you killed?"
The last few chapters of the book truly horrific, especially so because the events of the book are partly based on reality (tho not on specific real events) and partly based on things that could very well happen. It was a horror story of the worst kind because the reader knows that this in not entirely fictional. It was simply chilling.
I will not review this in detail or give away much of the plot because this is a book that is best read without knowing anything about it. What I do want to say, however, is that James writing was fantastic. The patois was difficult at first but after a while I got into the rhythm of reading the dialogues and it just added to the atmosphere.
I also managed to listen to Joan Hickson's narration of Agatha Christies' The Thirteen Problems. This was a re-read for me and I only want to mention the book because this is another example of how much fun it is to re-read Agatha Christie's work: I always discover new things about the stories, the characters, and Christie herself when re-reading her stories.
Just the same with The Thirteen Problems, which is the first collection of Miss Marple short stories. The stories centre around Miss Marple and her friends meeting as the Tuesday Night Club and telling each other of criminal cases. I liked it much more than on my last read of it. There were a few times that I actually laughed out loud – in equal parts because the characters were funny and in parts because I could picture Dame Agatha having fun writing these parts.
Lastly, I finished Ngaio Marsh's book Black as He's Painted. It was a very interesting mystery that was based on an unusual premise: post-colonial politics. There are a number of elements of the story that have not aged well, but the majority of the book has been delightful, especially the descriptions of how Lucy Locket (the featured black cat) adopted her new human.
Other reviews posted this week:
Jo Nesbo: Macbeth