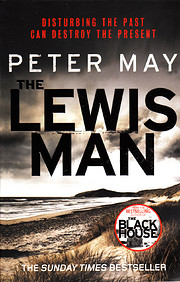 One of these days I'll learn to look up whether a book is a part of a series before buying it. Not that it mattered in this case because The Lewis Man works very well without knowledge of the previous book.
I loved the solid mystery of the story but not as much as I loved the atmosphere that May creates in these pages – and there are even distinct differences in the places that the story takes us: when set in Edinburgh, I could sense the bustle of the city; when set on the island(s), the story's pace shifted.
Peter May can certainly write a gripping story with interesting characters, and I stand by my earlier observation that this book reminded me of the writing of Val McDermid, whose books I really enjoy.
However, therein also lies my criticism – some of the similarities were too similar. Some of the plot twist, seemed familiar. Not only the fact that there is a body found in the bog, which is also the focus of one of McDermid's books, but the solution to the mystery also became a little predictable through that similarity.
Still, I look forward to discovering May's other books.
3.5* (out of 5*)
Original post:
BrokenTune.booklikes.com/post/1886541/the-lewis-man