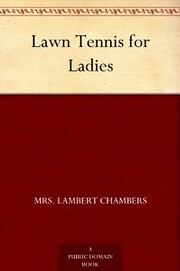 Dorothea Lambert Chambers won seven Wimbledon titles between 1903 and 1914 – just one fewer than Steffi Graf, and yet I did not know she had written a book about both her experience and about the sport until I was browsing the freebie download section on my Kindle.
I just finished the book – it's not very long – and I am amazed that the world Mrs Chambers describes is "only" 100 years ago. The book was published in 1910 and dives straight into an outright defense of why women should not be discouraged from playing sports.
Reading those passages today, it seems unthinkable that there was a time when the idea of women engaging in sports, or even exercise, was a cause of social pariah and in need of justification.
But then, I am looking at this from a European perspective, and it may be that the defenses brought forward by Mrs Chambers still hold true even today. After all it was only a year ago, during the London Olympics that Saudi Arabia lifted its ban on female athletes, and that also Brunei and Qatar were sending female athletes to the Olympics for the first time.
The book is not all about the drive to argue against outdated views. There are instructive sections on technique, game play, and tactics, and there are also quite practical sections containing advice for the woman tennis player from choosing the right equipment to a discussion of tennis clothing.
This section on dress in particular made me laugh:
"White is undoubtedly the best colour to wear. It washes well and does not fade, and looks very much neater on the court than a coloured material. I prefer white shoes and stockings, for I think it looks nicer to be in one uniform colour. But this is a matter of taste. Some people urge that white shoes make your feet appear much bigger than black or brown. I do not agree."