Since moving away from Booklikes and finding my feet on other platforms again such as this WP blog, LibrarThing and Goodreads, I find these weekly reading updates very useful. Without them, I would find it difficult to remember what I have read in the previous week. Not all books are brilliant, and some aren't even memorable. Some books are memorable but memory of when I started or finished them may not be reliable because some books stay with me long after I have closed them.
Some books I forget almost instantly. This week Annie Haynes' The Bungalow Mystery was just such a book. This was my second dip into Haynes' work and initially the book was thrilling: a doctor is called to a neighbour's house to discover that the neighbour has been killed. Then out of the blue the doctor discovers a young woman hiding behind a curtain and decides to help her make an escape. It was a thrilling start.
Unfortunately, the story then turned to a plot twist that derailed both the plot and the suspense that had started to build. The story never got on track for me. Worst of all, the solution of the story was predictable, but there was no way that the reader was given a fair chance to discover the motive that was revealed at the end. Unless of course, I missed it completely while we were chasing red herrings all over the place. That I missed it is is entirely possible. I was so bored by the middle of the story that I just wished it would end as soon as possible. Still, I believe The Bungalow Mystery was Haynes' first mystery, so it was to be expected that it would not be a polished piece of work of an experienced writer.
I still have a few of her books at hand and I will continue to explore Haynes' work. I'm intrigued to see if and how the books change over time.
I also managed to finish Mary Beard's S.P.Q.R. I've said this in previous reading updates, but I thought the book was absolutely fantastic. I love how Beard told the story of the rise of Rome not merely by listing dates and wars and the names of famous generals and consuls but also included a description of the lives of ordinary Romans, and how the political events affected the people, or didn't affect the people in some cases.
The rest of the week I focused on trying to close out other books that I had started so that I could go into this year's Halloween Bingo (starting on 1st Sept.) with as few distractions as possible.
I had started Uwe Timm's book Halbschatten a few month ago but never could get into the right mood to continue reading it. It's not an easy read. It tells the story a man who visits a graveyard in Berlin that is known to be the final resting place of mostly people associated with the military. The man meets a guide who offers to help him find the grave he is looking for: the pilot Marga von Etzdorf, the first woman hired to fly for an airline, and the first woman to fly solo across Siberia, from Germany to Tokyo, Japan, and who committed suicide under mysterious circumstances after crashing her plane in Syria in 1933.
I loved the book.
As I said, it is not an easy read, because we do not only get the story of Marga von Etzdorf, but we also get the story of the rise of Nazim, stories of the war, stories that are hard to read.
Howver, I much appreciated what Timm did here by structuring the book as a version of Dante's Divine Comedy. So, when I finally got stuck into the book, I had to finish it in one sitting. For me, Halbschatten proved to be a perfect balance of lit fic, mystery, history, and discussion of issues. I even liked the way that Timm wrote from the women's point of view, which is not always a given. Halbschatten was my first book by Timm and I look forward to reading more by him.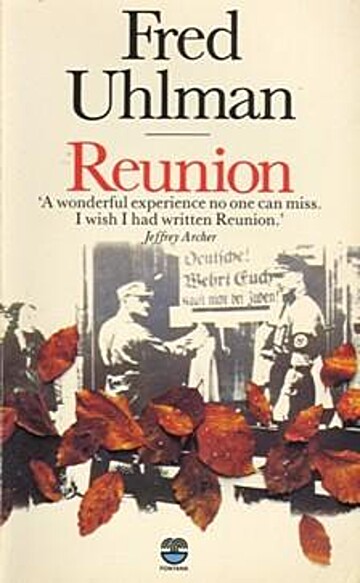 And as I still had time for another book before picking up my first Halloween Bingo book (we were allowed to pick one book as a head-start), I also read Fred Uhlman's novella Reunion, which was a perfect follow-up to Halbschatten. Reunion tells the story of two boys who came from different backgrounds and became friends at school. However, the rise of Nazism caused a rift between them. The novella is based on Uhlman's own life, but I am not sure whether it is entirely autobiographical. It was Uhlman's only book, and is not well-known. It should be, tho. It was well-written, and packs a punch, even for someone who has read many similar stories. When reading the novella, I was reminded of the style of Joseph Roth (Hiob, Radetzkymarsch, etc.) which much added to my enjoyment. I was also reminded that it is this kind of forgotten writing that makes it so difficult for me to enjoy historical fiction. I think I will always prefer fiction "of its time".
I only came across Reunion on Saturday night when Ali Smith talked about the book, or rather the author, in her interview event at the Edinburgh Book Festival this year. Uhlman's story was one of the stories that Smith incorporated into her latest book, Summer. Summer, much like the rest of Smith's Seasonal Quartet, is also very much fiction "of its time", of our time.
And this is it. Most of my books for the next two months will be titles that I pick for our annual Halloween Bingo game.
Other reviews posted this week:
None.